Terrain Data
SRTM30 - Shuttle Radar Topography Mission
Global Coverage (~900m)
Resolution: ~900 m, 30 arc-sec
Coverage: Global
Projection: Geographic
Datum: WGS84
Vertical Units: Meter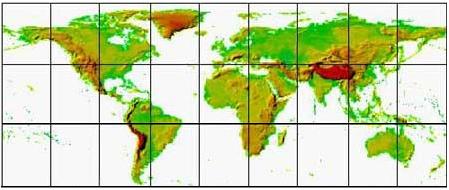 Click on the map below to download the data in zip format.
The links below are connected directly to the NASA site
(courtesy of NASA/NGA/USGS).
SRTM30 is considered an upgrade to the original GTOPO30 data sets.

This data was collected during the Shuttle Radar Topography Mission (SRTM) and contains global coverage from 56 degrees south latitude to 60 degrees north latitude with an approximate resolution of 900 by 900 meters. For further detail, please read the Info, Documentation or the Quick Start.